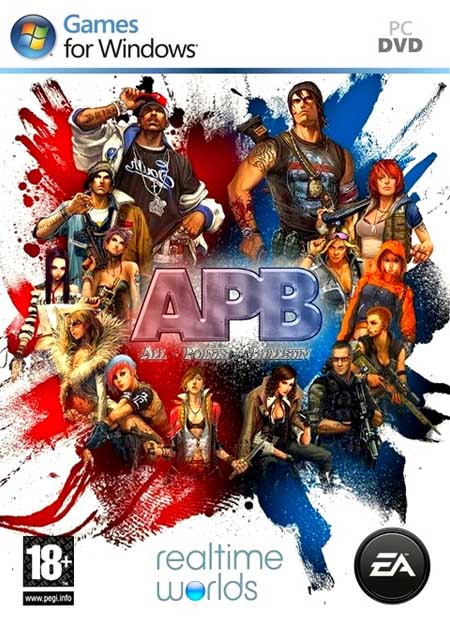 APB – a kind of third-person shooter with a deep, detailed configuration, from the creators of Grand Theft Auto, developed by Real Time Worlds Ltd. APB uses "living, breathing" ("Live and breathe") to create a "living" city, where players are constantly faced – on foot or by car – Determining the future of San Paro. San Paro – a fictional capital city, where two factions – advocates and criminals – are vying for control.
Year: 2010
Genre: RPG / 3D / Online-only / Massively multiplayer
Platform: PC
Developer: Realtime Worlds
Publisher: Electronic Arts
Publication Type: license
Tabletka: Not required
Language: English
Size: 10.48 GB
APB massively multiplayer online game based on the unrestricted freedom of movement and combat. APB offers players a living city, where the availability of money and territory equals respect. In APB players must decide whether or not they enforce the laws, to take the compliance issues of justice and order, or to become a gangster, who acts illegally. APB will provide players the opportunity to configure parts of their clothing, weapons, cars and preferences in music.
Features:
On this promising game has been known for a very long time, her videos are displayed at E3 2005, in those years, the exhibition was the largest and most attractive, so here a few years, development time moved a little, but the concept of the game is not changed. From its title APB – 2009 can be seen only in what year will this project, but that will be inside while not very well known. Key personnel of the company-developer Realtime Worlds claim a multimillion-dollar budget, but that this game should be a truly mass, not a role, but simply an online game, that is to say that the APB – 2009 – a game in the MMORPG genre would be not properly and correctly. Developers boldly declare that they do not like all the fantasy and mythical things, they want to replace the usual things, the buildings of our times and all that surrounds the people, not what makes up a sick fantasy writers. Very much the authors have tried over the face of your characters, they are incredibly photorealistic. Flow changes, now you can easily understand who is in front of you, just clothes. There are in the game and built-in camera that would shoot mass events, such as chase and bank robberies, in general, if the project's creators APB – 2009 will receive everything they want done, then it would be really ambitious game that captures a wide audience of players, But this is hard to believe, too unknown company budget is unlikely to exceed the largest companies. In general, if you have enough patience with you and the developers, you can get something tasty, and as long as everything is very vague
System requirements:
Minimum Requirements:
-OS: Windows XP, Vista, 7
-CPU: Athlon 5000 + or equivalent
-VIDEO: 3800 or 8800
-RAM: 2 GB RAM
-HDD: 8.5 GB of disk space
Recommended:
-OS: Windows XP, Vista, 7
-CPU: Core 2 Duo 2Ghz or equivalent
-VIDEO: nVidia GeForce 7800 – 256MB or equivalent
-RAM: 2GB RAM (3GB for Vista64 / Windows July 1964)
-HDD: 20GB Hard disk space
How to get the key:
1. Go here: fileplay.net
2. Right pokes Join fileplay
3. Create an account, confirm to pochte.
4. Username fileplay.net
5. Switching to fileplay.net / keys
6. Dab on Get your key here!
7. Bottom slightly Request Key!
8. Returns the key note xxxxx-xxxxx-xxxxx
9. Below link eu.realtimeworlds.com / account / createAccount
10. Go, key input, realtag is your nickname in the game.
11. Passwords must begin with the large and small letters on ang language and numbers. Example: Aa123
12. Enter the information, look at mail, referrals, and all. Account is ready, login mail password you entered
When the server raises: eu.beta.apb.com / news / playtimes
Game Version: 0.9
Installation:
1. Mount image in the emulator (skopiovat all with an image on a PC)
2. Run through APBLauncher (located in the Launcher)
3. Play.
sabar aja yaa nyedotnya.. ada 52 part winrarnya..

part01
part02
part03
part04
part05
part06
part07
part08
part09
part10
part11
part12
part13
part14
part15
part16
part17
part18
part19
part20
part21
part22
part23
part24
part25
part26
part27
part28
part29
part30
part31
part32
part33
part34
part35
part36
part37
part38
part39
part40
part41
part42
part43
part44
part45
part46
part47
part48
part49
part50
part51
part52